It is demeaning to women that they are added as 'token candidates' to party tickets. It appears to be all about money as opposed to a genuine belief that women have much to offer the world of politics. Ireland is yet to be represented by a female Taoiseach but having had two presidents the day is not far off.


Gender quota directive 'weakens' position of female politicians
Fine Gael's Mairead Fernane said a woman has to want to get into politics and it is "pointless" to encourage them just to meet the quotas.
Mairead Fernane
A FINE GAEL town councillor has said she "questions" gender quotas and whether they are necessary.
Mairead Fernane,who is a councillor for Tralee and was in the running as a candidate for the electoral area until the convention on Friday night, toldTheJournal.ie that she thinks "it can be confusing for people".
"A woman has to want to do it herself, " she said. "I think it's pointless encouraging people into politics just because of that."
"It weakens our situation, to be honest with you," she added.
Her comments follow Tralee Mayor Pat Hussey pulling out of the race after Fine Gael implemented a gender quota policy, meaning that one of the two women who were potential candidates for the ticket would definitely go forward.
The government has passed legislation that will see parties lose their Exchequer funding if females do not make up a minimum of 30 per cent of their overall number of candidates at the next general election.
Some parties are implementing the principle of the new law now for their selection of  candidates for the local elections next year in order to give them a greater chance of complying with the law.
'On a plate'
Fernane rejected suggestions that quotas could mean a less qualified person would be chosen, asserting that "the same could work for both genders".
"It is singling the women out though," she said. "It all comes down to a personal choice – if you want to go into politics you'll work for it."
Grace O'Donnell, the other Fine Gael female candidate in Tralee, who won a place on the ticket at the electoral area convention last Friday night, said today she had "worked very hard to get elected" and thought Hussey had handled the situation in "a very crass way".
"We do need to get more women into politics," she said. "The gender quotas are about putting pressure on the grass roots to go out and actively find and encourage females to run."
"No female councillor I know wants to just get handed it on a plate," she added.
The Tralee councillor said there needs to be more supports in place for women to give them the option of getting into politics.
"I'm single, I've no children and there's a lot of time involved in politics so you would need a lot of support if you have a family and that's what this is all about – having support there at all levels, from the grass roots up," she said.
'Farce': Fine Gael begins adding women
Fine Gael is short on women candidates ahead of the general election.
Grace O'Donnell
Image: Irish Election Literature
FINE GAEL HAS begun the process of adding women candidates to general election tickets across the country with a former town councillor set to run alongside two incumbent TDs in Kerry.
Grace O'Donnell, a former mayor of Tralee, has been added to Fine Gael ticket in the five-seat Kerry constituency alongside sitting deputies Brendan Griffin and Jimmy Deenihan, who is the Diaspora Minister.
O'Donnell was added last week after her name came before the party's national executive. She was Tralee town councillor from 2009 to 2014, serving as mayor in 2011, before she failed to win a seat a seat on Kerry county council last year.
At least three more women will be added to tickets in the coming weeks as Fine Gael looks to ensure that 30% of its Dáil hopefuls are female in order to comply with new gender quota rules and avoid a cut in State funding.
The process of adding people to election tickets after selection conventions have taken place is proving controversial amongst many in the party.
One Fine Gael source in Kerry said the addition of O'Donnell and the general issue of adding female candidates after members have already had their say at convention proved "what a farce the gender quotas are".
"If you are trying to genuinely get more women in politics, we should look at more practical solutions like more family friendly working hours." the source said.
O'Donnell did not respond to a request for comment today. Deenihan could also not be reached for comment. Griffin said only that he is focussed on his own campaign.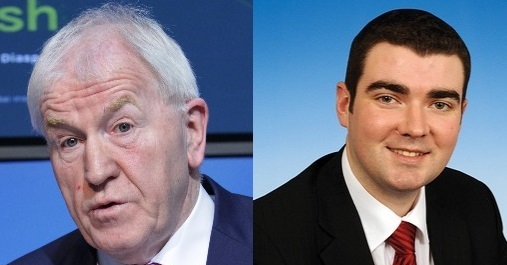 Kerry TDs Jimmy Deenihan and Brendan GriffinSource: RollingNews.ie/Facebook
"I've delivered for the people of Kerry on the key issues I stood on in 2011 and that certainly is a help going into this election. I am focused on my own campaign as I have always done," he said.
TheJournal.ie reported last month that Fine Gael had identified 10 constituencies where candidates will be added in order to comply with gender quotas.
After completing selection conventions in all 40 Dáil constituencies, just 26% of the party's candidates were female meaning the addition of at least four women would be needed.
But, as we reported last month, the addition of two men and five women – which would bring the party to 30% female candidates – is being considered.
After Kerry, the party is still considering adding candidates in the other five-seaters of Donegal, Wicklow, Wexford, and Dublin Fingal.
It's less likely that a candidate will be added in the other five-seater of Louth, it is understood. Fine Gael election strategists are also mulling the addition of candidates in Clare (4 seats), Laois (3), Cork East (4) and Cork North-Central (4).
It means that cabinet ministers Charlie Flanagan and James Reilly and junior ministers Simon Harris, Dara Murphy, and Joe McHugh, and government chief whip Paul Kehoe are all among those facing the possibility of having candidates added to their tickets.
Kerry fury as Moriarty added to the FF ticket
PUBLISHED25/04/2015 | 02:30
A FIANNA Fáil councillor, who withdrew her name from consideration ahead of the party's selection convention in Kerry, has been added to the ticket to contest the next general election.
Norma Moriarty (43), a teacher at Pobalscoil Inbhear Sceine in Kenmare, joins the Mayor of Kerry John Brassil to contest the election for Fianna Fáil in the new five-seater Kerry constituency.
The decision is said to have infuriated party members in Kerry, who feel the choice was taken out of their hands.
Submissions had been made to Fianna Fáil's constituency committee by a number of disappointed candidates, including former TD for Kerry North, Tom McEllistrim, Senator Mark Daly, Killarney councillor Niall Kelleher and Ms Moriarty.
Mr Daly criticised party policy of candidates being selected by headquarters.
He said: "It is the 1,500 members in Kerry who should decide who the candidates should be and not two people in a room in Dublin. This is not the transparency party members expect."
Ms Moriarty, a niece-in-law of legendary GAA coach Mick O'Dwyer and cousin of former footballer Maurice Fitzgerald, was first elected to Kerry County Council last year.